David Buckel: US lawyer sets himself on fire in climate protest

]]> US & Canada US & Canada David Buckel: US lawyer sets himself on fire in climate protest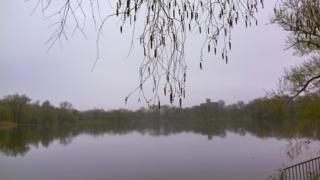 A prominent US lawyer has died after setting himself on fire in a New York park in a protest against climate change.
The remains of David Buckel, 60, were found in Prospect Park in Brooklyn.
In a suicide note found nearby, Mr Buckel wrote that he had immolated himself using fossil fuel to symbolise what he said was the damage human beings were doing to the Earth.
He said most people now breathed bad air and many died prematurely.
Mr Buckel was well known for his legal work on behalf of gay, lesbian and transgender people and later worked with several environmental groups.
"Pollution ravages our planet, oozing inhabitability via air, soil, water and weather," the lawyer said in his suicide note, quoted by the New York Times . The note was also emailed to several news organisations shortly before his body was found, the newspaper said.
"My early death by fossil fuel reflects what we are doing to ourselves," he said.
Climate change 'hurts women more'
"This is not new, as many have chosen to give a life based on the view that no other action can most meaningfully address the harm they see," he added, the New York Daily News reported.
'Engaging advocacy'
Mr Buckel was the lead lawyer in a case in which police in Nebraska were found to have failed to protect Brandon Teena, a transgender teen who had been raped and assaulted and was later murdered in the state of Nebraska.
Mr Teena's story was the subject of the 1999 film Boys Don't Cry and Hilary Swank won an Oscar for her portrayal of him.
He also worked as marriage project director and senior counsel at Lambda Legal, which fights for LGBT rights.
Lambda's Camilla Taylor described Mr Buckel as a "legal visionary".
"His thoughtful and engaging advocacy broke through many stubborn misconceptions and showed it was possible and necessary for our movement to speak up for bullied, ostracised LGBT young people," she said in a statement to the Huffington Post.
Top Stories
US warns Syria: We are 'locked and loaded'
President Trump vows to repeat Saturday's strikes on Syria if it carries out new chemical attacks.
15 April 2018
World won't ignore toxic warfare - Johnson
15 April 2018
ICYMI: Huge robot and presenter in pool
15 April 2018
Features
Americans going abroad for illegal heroin treatment
Can Trump just walk away after strikes?
Video
What Paul Ryan quitting could really mean
'I was a teacher for 17 years - but I couldn't read'
Video
Tricks that keep you hooked on your phone
Secrets of a world record-breaking 'fairy cave'
Families caught in Trump's refugee clampdown
Video
How I fled North Korea
Were the Syria air strikes legal?
Why you can trust BBC News
BBC News Services
On your mobile
On your connected tv
Get news alerts
Contact BBC News
Source:
Google News