Canada gun attack: Man charged after four killed in New Brunswick

US & Canada US & Canada Canada gun attack: Man charged after four killed in New Brunswick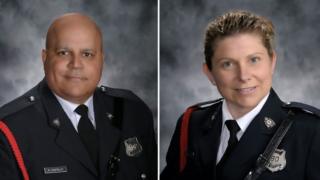 A man has been charged with four counts of murder after two police officers and two civilians were shot dead in New Brunswick in Canada on Friday morning.
Matthew Vincent Raymond, 48, was arrested after the shooting locked down the provincial capital, Fredericton.
It was the deadliest day for the Canadian police force in four years.
The officers were shot after responding to reports of a gun poking out of a window and two bodies lying in a courtyard outside.
The officers have been named as Constable Robert (Robb) Costello, 45, and Constable Sara Burns, 43.
Constable Costello was a father of four and a 20-year police force veteran. Constable Burns had been on the force for two years, after serving as an auxiliary officer, and was married with three children.
Halifax police chief Jean-Michel Blais tweeted: "To the children of Sara Burns and Robb Costello, I wish you peace and comfort this night."
Gun control calls
The tw o residents killed were Donald Adam Robichaud, 42, and 32-year-old Bobbie Lee Wright.
Mr Robichaud's cousin Sean Callahan told CityNews Edmonton: "The guy was so likable, like I don't think he had anybody that hated him." He said Mr Robichaud was a father of three children and was a musician in a few local bands.
Police have not given full details of the incident but witnesses told media that officers were called to a low-rise, four-building apartment complex on Brookside Drive, in the north of the city, at about 07:00 (10:00 GMT) on Friday.
A cluster of shots had been heard, the witnesses said. The first two police responders were shot dead.
Heavily armed police were then called to the scene and some nearby residents were escorted to safety. Other people were urged to stay indoors and a lockdown was enforced.
The suspect was later arrested in his flat.
The shooting was the worst for the Canadian police since Justin Bourque killed three officers in Moncton, New Brunswick, in June 2014.
But it also came a few weeks after a man killed a woman and a child and injured 13 other people in Toronto.
Canada has stricter gun control laws than the US, but the incident sparked renewed calls for a ban on handguns.
Gun-related murders in Canada in 2016 were up 23% on 2015.
Top Stories
Airline employee steals and crashes plane
Witnesses say the US passenger plane did a complete loop after taking off from Seattle airport.
11 August 2018
Weedkiller 'doesn't cause cancer' - Bayer
11 August 2018
Why Nick Cannon went back to school
10 August 2018
Features
Video
Why Nick Cannon went back to school
Why I'm suing conspiracy theorist Alex Jones
What do we know about glyphosate in weedkiller?
The horror story inside an Indian children's home
Hacking the US mid-terms? It's child's play
South Africa risks 'Zimbabwe-style land chaos'
Refugee, activist and champion of Syrian cuisine
Work starts on painted-over Banksy murals
The best news photos from the past week
Elsewhere on the BBC
Football phrases
15 sayings from around the world
Full article Football phrases Why you can trust BBC News
BBC News Services
On your mobile
On your connected tv
Get news alerts
Contact BBC News
Source:
Google News Canada
|
Netizen 24 Canada